Bailu No.1 بـايــلوا رقم 1
سماد عضوي مستخلص من أعشاب البحر غني بالمواد العضوية و حمض الالجنيك ، مانيتول ، سايتوكينين و منظمات النمو الأخرى و العناصر المغذية الصغرى، يستخدم رشــا و سقياً.
Bailu No. 1: It is an organic fertilizer extracted from seaweeds, which is rich in organic matter, Alginic acid, Mannitol, cytokinen, natural plant growth regulator and other micro elements. It can be used by spray & irrigation.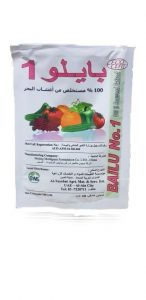 Component المحتويات
K2O 20%

Alginic Acid 18%

Organic Matter 45%
يستخدم على الخضار و الاشجار المثمرة و أشجار النخيل و الزهور و محاصيل الاعلاف و نباتان الزينة و المسطحات الخضراء و ملاعب الجولف وفق مايلي :
*يستخدم رشأً : بمعدل  1 كغ من المركب لكل 3000 – 4000 لتر ماء و يعاد الرش 3 – 4 مرات بفارق 20 يوم بين كل رشة و أخرى.
*يستخدم سقياً:  بمعدل 1.5 – 2 كغ لكل هكتار .
*يستخدم لمعاملة البذور: بمعدل 1 – 2  كغ / طن متري بذور.
*يستخدم لغمس الجذور: تغمس الجذور بالمركب بعد التخفيف  1 كغ من المركب لكل 2500 – 3000 لتر ماء.
Used on Vegetable, Fruit Trees, Date palm trees, Flowers, Field Crops, Forage Crops, Ornamentals, Turf and Golf courses as below:
*Foliar spray: Dilute the product by 3000-4000 times water and make 3 to 4 continuous applications at 20 days interval.
*Fertigation: Dosage is 1.5 – 2 Kgs/ha.
*Seed treatment: 1 Ton seeds is treated by 1 – 2 kgs products.
* Root dipping: Dilute 1 Kg of product by 2500- 3000 water and then dip the roots.